---
I recently completed building a mammoth vertical panel saw. Measuring over 8' long and 6' tall, this was to be the tool to end all tools as far as cutting sheet goods goes. I was pretty proud of it, but in the end it did not work quite as well as I expected.
Then, I came across an article in Fine WoodWorking, Issue #143, titled "A Circular Saw in the Furniture Shop?", written by Gary Williams. Dang! It hit me that his Panel Cutting Table was really what I needed. Most of us have built or used something similar to Gary's cutting table, it was his simple procedure for lifting the material onto the table that I had never thought of. Ingenious.
Anyway, I purchased a banquet table folding leg set at Menards for $13.00, four 2 x 4s (I needed one additional 32" piece), and 1 hour later I had myself a panel cutting table. And his procedure for lifting the material onto the table works like a charm. If only I had seen the article before I built my blasted contraption. Thanks FWW. Thanks Gary. Thanks Luzimar for putting up with my failed inventions.....
Update: After using the panel cutting table and my shop-made cutting guides for several months, I can honestly say that I have absolutely no interest in purchasing a vertical panel cutting saw. My setup is easy to use and produces perfectly accurate cuts with minimal chip out. I purchased a Forrest WWII blade for my DeWALT circular saw thinking it would out perform the less-expensive 7-1/4" CMT Cut-Off blade. After comparing the two, the CMT blade produces a cleaner crosscut (no chip out) in hardwood plywoods. The Forrest blade might have a slight edge on rip cuts, though the difference is miniscule.
---
Design / Construction Notes:
All frame members are standard 2 x 4's.
You could use 2 x 2s for the long rails and not mortise the rails like I did.
Adjust the spacing of the second and third cross members depending on your leg set.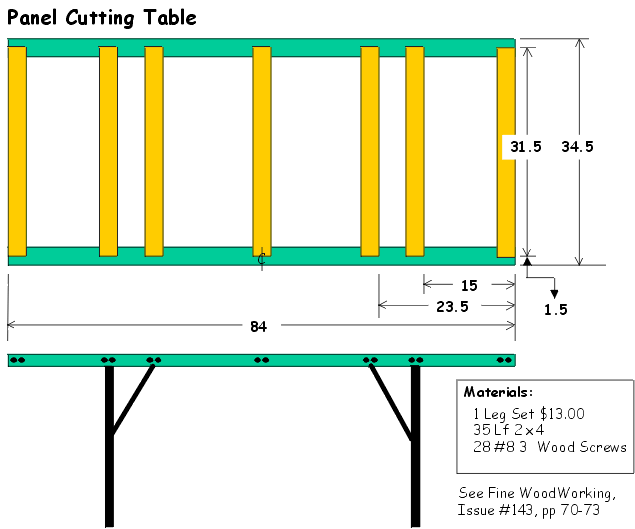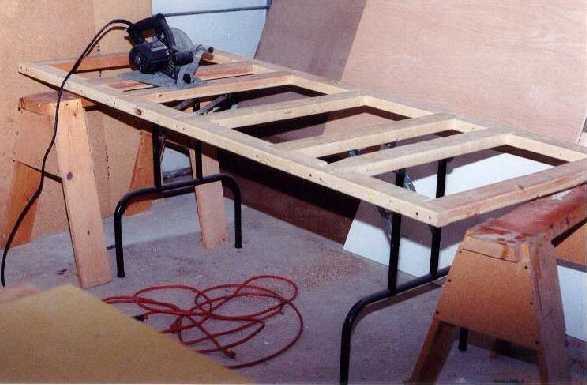 ---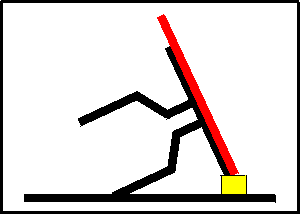 To load a sheet of plywood onto the table, tip the table onto a pair of scrap 2 x 4 spacers, lift the plywood onto the spacers and against the table, and lift the plywood and the table together. You will find that gravity does most of the work.
---
You can access the Gary Williams article here: A Circular Saw in the Furniture Shop?" If for some reason the article is no longer available, click here for a PDF version.
---
In the past I have used Penn State Circular Saw Guides with my circular saw to cut large panels. However, I decided to toss the Penn State guide for several shop-made guides that in my opinion, work better. I have three primary shop-made guides:
An 8-foot guide used for ripping large panels. The guide works well enough that I can rip the entire length of a sheet of plywood and be accurate within 1/64" or better.
A 48-inch guide used for crosscutting panels.
A 60-inch "T-Square" guide used for crosscutting panels. I often use this guide and my saw as a substitute for the radial arm saw I sold a few years ago. I simply clamp the guide to my panel cutting table (with a spacer the thickness of my workpieces at the far end). I then slide the work under the guide and cut.
Recently, I have begun using the Festool circular saw and guide system. They have advantages over shop-made guides. You can check out our review of the Festool system at our Tool Reviews page.
There are numerous ways to calibrate a circular saw guide to cut square. Unfortunately, using a carpenter's square or even a machinist's square does not always cut it. There are three methods that are regarded as being the best practice methods for squaring a crosscut device (guides, miter gauges, sleds, and sliding tables). Click Here to read about and view demonstrations of three methods for calibrating crosscut devices.
---
Was this article helpful? Do you have any questions? E-Mail Us! We would love to hear from you!