---
Keeping your woodworking hand cutting tools sharp is a necessary evil. It is difficult to enjoy working wood using dull tools. In fact, it is unsafe, a time waster, and often, a waster of materials. In the machine shop, much of my time was spent sharpening lathe/mill cutters and drill bits. Same thing in the wood shop--sharpening is a time-consuming activity.
Sharpening stations such as the Tormek T7 , The Lap Sharp LS-200, and the Work Sharp WS3000 are popular because they produce consistent results with minimal effort and time spent. And if you prefer not to spend the $$$$, with a little practice, you can learn to sharpen your hand tools rather quickly using the "Scary Sharp" method, requiring a piece of glass and sand paper.
Regardless of the sharpening method you choose, remember: It is a lot easier to sharpen your tools if you keep them sharp!
We plan to add to this page with specific instructions and photos of the systems we use to sharpen our knives, chisels, plane irons, turning tools, and so forth. For now, it provides a few ideas and lots of links to great sites.
---
Before we get into sharpening hand tools, I just want to say that I, like most woodworkers, send our saw blades out for sharpening. I have used a variety of services including a local sharpener, Forrest, and Solar-Saw in California. Forrest did the best job, but also charged three times more than the competition. General construction blades can be ground to 400 grit for satisfactory results. Cabinetmaker blades should be ground and hone to 600 grit. Here are links to a few quality sharpening services:
Bull Sharpening Service, Inc. (400 Grit)
6332 W. Roosevelt Road
Oak Park, IL 60304
Tel: (708)386-2365
Fax: (708)386-3248
E-Mail: info@bullsharp.com

Cardinal Tool Sharpening (600 Grit)
RR # 1 Box 36
Marshall Indiana 47859
Tel: (765)597-4606
Toll Free (800)932-0462
E-Mail: busoffice@cardinaltool.com

Forrest Manufacturing (600 Grit)
(800)733-7111
(973)473-5236 (For New Jersey Callers)


Ridge Carbide Tool (600 Grit)
(800)443-0992
(888)-RCT-TOOL (FAX)


Solar Saw Service
13841 Roswell Avenue Unit L
Chino, CA 91710
(909)628-1213
---
I have two very nice hand saws and do not sharpen them myself. However, many woodworkers have the patience and time to do so--more power to them! Lie-Nielsen and others provide relatively inexpensive hand saw sharpening services. Here is a link to an excellent primer regarding hand saw sharpening: The Vintage Saw Sharpening Primer
---
Like most woodworkers, I cannot afford (time and money) to send my hand tools out for sharpening. I have used the "Scary Sharp" system for about 10 years to sharpen bench chisels, plane irons, and carving knives. The Scary Sharp system employs several grits of wet/dry abrasive (PSA sand paper) afixed to plate glass. The system is time and cost-effective. On the downside, it takes some skill to ensure the correct sharpening angles, it works best with flat cutting tools (I have trouble with gouges), and don't drop the plate glass!
The Scary Sharp system is described at a variety of web sites and in various magazines. Fine WoodWorking, Issue #140, ran an article titled Getting an Edge with Waterstones, Oilstones, and Sandpaper that provides one of the clearest articles on the subject.
I follow the procedure with some variation. I use the primary grits described in the article (80, 120, 320,600) and 1200 for the finest edge. I use a leather strop with compound to obtain a mirror finish. Contrary to the author, I sharpen with the blade perpendicular to the length of sandpaper.
Expect to spend approximately $50 to $70 for the glass and the wet/dry abrasives. It is a very cost-effective system as these components end up costing a bit less than than the new "Scary Sharp" Work Sharp WS2000/WS3000 units, and a lot less expensive than the Veritas, Lap Sharp, or Tormek (hollow-ground) units. Actually, a good set of wet/water stones will cost more and are more difficult for most of us to use and maintain.
The following are pictures of my Scary Sharp system: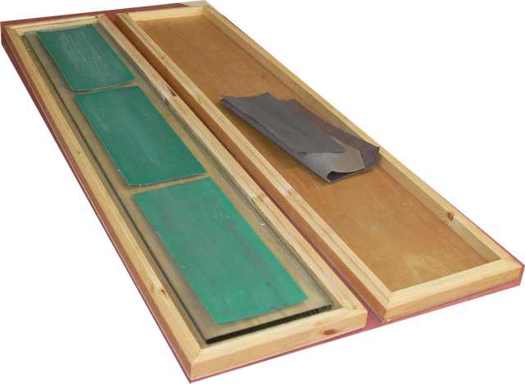 The following are a few Scary Sharp and other sharpening articles:
---
I currently use two standard bench grinders outfitted with Norton Aluminum Oxide grinding wheels, a Veritas Grinding Guide, and the Oneway Wolverine Grinding Jig to sharpen my turning tools. The system works well for me.
Alan Lacer offers several excellent articles in regards to sharpening and honing turning tools:
Sharpening Turning Tools (Part 1 and Part 2)
I plan to add images and videos showing how I use this system. I am just too busy sharpening to setup the cameras! Here are a few pictures of our setup:
The Reliant grinder runs at 1725 RPM. Note the Oneway Wolverine Guides. The Oneway Wolverine Sharpening system came with two bench bases, one platform, and one tool holder. The bases, platform, and tool holder are very strong, offering a sturdy, no-flex system.

The tool holder adjusts in and out to set the grinding angle. I just place the gouge in the holder and slide the holder in or out to align the angle of the cutting edge with the grinding wheel. Then, with the grinder running, you simply turn the gouge right to left against the wheel to sharpen. I use a light touch and the slower grinder to prevent overheating the cutting edge. It is a simple system and works very well.


This straight on shot emphasizes the size of the platform and the general heavy-duty design of the Wolverine system. The platform provides a large and sturdy surface, but does not include slots for jigs. You can easily and quickly move the tool holder/platform from one base to the other.
A closer shot of the large platform. Grinding angle is set by moving the platform in/out and adjusting its pivot and height.
A closer shot of the grind angle.
This shot provides a closer look at the tool holder, its length, and its base.
Our second grinder is equipped with a standard coarse grinding wheel and a felt wheel.
---
You can sharpen your hand tools using a grinder, disk sander, wet stones, ceramic stones, the Scary Sharp system, and even a concrete block. However, if you're spending too much time in the shop sharpening your cutting tools, you may want to invest in a sharpening system such as those listed below. The following sharpening systems receive favorable to excellent marks from their owners and reviewers:
Again, there are several other sharpening systems and grinders available that do a good job. Check out the various woodworking forums for reviews and recommendations. If you have a sharpening system that works for you that I did not mention above, drop us a line!
---
I encourage you to take a few minutes and read the comments from Don Naples of Wood Artistry, LLC, regarding sharpening woodworking tools and the Lap-Sharp sharpening system he developed and currently promotes.
Click the following link to read the article:
Don Naples Comments and the Lap-Sharp Sharpening System
---
I encourage you to take a few minutes and read the comments from one of the Work Sharp, Professional Tool MFG engineers in regards to sharpening curved carving/turning tools using the WS3000.
Click the following link to read the article:
Sharpening Gouges Using the WS3000
---
The following are a few links to Web sites that offer sharpening tips and resources:
---
Was this article helpful? Do you have any questions? E-Mail Us! We would love to hear from you!