Recent Family Activities
Here is a list of some of our recent, and not so recent activities:
Fall 2001

Working on various Christmas presents, including 11 creches, 4 nameplates, a couple of Jewelry boxes, etc. Click here for pics.


Luzimar is working as a volunteer at a local Elementary school. She is helping ESL students with English. She enjoys it very much and it gives her a chance to use her teaching skills as well as share herself and her special talents.


The weather has been great so we have taken the opportunity to Tandem in the local forest preserves as well as the street.


The September 11 tragedy has greatly impacted us. We plan to step up our volunteer and church activities to give a little back.






Spring/Summer 2001

Finished the armoires, finally. Talk about "Project Interrupted"!


We finally received our Cannondale Tandem and rode it quite a bit. It is an absolute blast! Finally, I can keep up with Luzimar!


We built another kayak, a 14-footer this time. But now I really have the bug to build a stitch and glue all wood and fiberglass kayak that will take more abuse! We paddled in a few of the local lakes and have gone on a few "day" trips looking for other good kayak spots.




Winter 2000/2001

Our church calling has kept us very busy so we have not been doing much in the shop, but we have met lots of great people while working with the missionaries.


Luzimar, Kurt, and I visited our folks in California. Took a three day trip through Northern California. We spent time in Yosimite and the Sequoias. We returned to SoCal via the Pacific Coast highway. It was a great time. We'll post photos when I can free some server space.


Eber and Olesea spent a month in Brazil. The family fell in love with Olesea, as we all have.




Fall 2000

Luzimar and I spent about ten days in SoCal to attend NetIQ AppManager training and visit the family. It was good to see the family even though we plan to see them again in a month or so. Running out of frequent flyer miles though! We commuted between Mission Viejo and Chino almost every evening. Actually, not a difficult ride with the new-to-us toll way. Now if they could fix the 91!


Visited Luzimar's family in Brazil in September. Had a great time and took lots of pictures. We'll try to get them scanned in and published on the web in the near future.


While in Brazil we visited three woodworking shops of various sizes. Even the smallest shop, complete with dirt floors and chickens underfoot, had remarkably high tech equipment including a stroke sander, shaper, wooden table saw and band saw, etc. None of the shops seemed to use electric or pnuematic hand tools. Hand work was done using conventional non-powered hand tools.


Finished the front and side yard landscaping (Report and Pictures). The new grass is growing very well, though there are a few bald spots here and there. Still need to come up with something to cover the new clean-out I had installed. It sticks up right in the middle of our landscaping..argh!!!


I quickly made a jewelry box (Click Here for Pictures) for my Mother-in-Law. I ruined the first one just a couple of days before leaving for Brazil, so I fell back to my tried and true finger/box joint design and finished it start to finish in a couple of evenings.


When we purchased the curio cabinet we ordered a beautiful Howard Miller Grandfather clock. It is really an incredible time piece and piece of furniture. Both Luzimar and I love clocks. I have built many clocks but have never kept one for ourselves. We have been planning to build a similar Grandfather clock, but couldn't pass up the great deal we got on this one.






Summer 2000

Visited Kurt at his temporary residence in Bettendorf. Kurt has been working at John Deere as a summer intern. We toured several John Deere plants with Kurt and had a great time.


Replaced the sewer connection between the house and the street. Yikes what an expense and mess. Luzimar, the boys, and I have all put in our time removing tree stumps, root systems.


Luzimar and I completely re-landscaped the front of the house including replanting a significant part of the lawn. (Report and Pictures)


Started and Finished the large file cabinet and credenza for the St. Charles ReMax office.


Luzimar and I (mostly Luzimar) stained the deck. It looks great.


Luzimar finally got the curio cabinet she has been waiting for. It's filled with stuff she and we have procured along the way. I have come to realize that even if you the tools, skills, and inclination, there is only so much you can build yourself....



Spring 2000

Spent a week in PA to teach a class.
Luzimar accompanied me on my second trip to PA where I taught another two weeks of classes. Luzimar spent most of her time during the day at Valley Forge (the park, not the shopping center!)


I am working with NT System Management software and the Unisys ES7000. Lots of fun....


Organized the shop (again), installed the Grizzly 1023S, and made a few smaller projects in the shop. Between travel, work, church, and misc. family activies, we have not spent our normal amount of time in the shop. Been playing around again with dovetailing by hand.



Fall/Winter 1999

Spent Christmas with Mom and Dad in California. Luzimar's and the boys second Christmas trip to California. Both Luzimar and I got sick. I was sick for Christmas eve and Christmas. Bummer.


Built two shaker wall clocks and some misc. stuff in the shop.


Dovetailed the eight drawers for the armoire (bottom part).


Luzimar and I finally visited the York Harley Davidson Plant! I want a Harley but can't afford a Schwinn (used)! The factory is super modern including tons of robots and lasers..really a cool tour for anyone who likes machines, bikes, or....while we were there bought Dad a Dyna-Glide convertible--a model of one anyway.


Luzimar and I spent part of September 1999 in King of Prussia PA. Visited Valley Forge, Gettysburg, and my personal favorite, Intercourse PA. Wanted to take in the Harley plant at York PA, but didn't have the time.



Spring/Summer 1999

Luzimar and I rebuilt our Kitchen. New cabinets, wall tile, floors, counter tops, stove, vent hood, refrigerator, etc.


Luzimar, Eber, and I built a Kayak. See our Kayak page for more info about how to build your own. Soon, I want to begin a stitch and glue kayak. Stay tuned!


Luzimar and I are building two armoires. We suspended construction to rebuild the kitchen and kayak.



Spring/Summer/Fall/Winter 1998

Luzimar and I designed and built an oak headboard/storage unit for our queen-sized bed.


Luzimar and I designed and built two oak pedestal/storage units for our queen-sized bed. This gives us several additional large drawers for storage.


The boys and I have worked on a few woodworking projects together including desks for both of their rooms.


Luzimar and I visited Provo Utah in February 1998. While I worked at Nature's Sunshine, Luzimar visited the sites and temple.


Luzimar and I visited Plymouth Michigan for another class. Luzimar took advantage of the Embassy Suites pool!


Luzimar and I spent a week in Washington, DC. We actually did not have time to do much site seeing but again Luzimar enjoyed the fitness center and temple.


September 1998 - Dec 1998 I traveled around the US doing the Unisys Global Electronic Marketing (Web) presentations. Spent time in California with Luzimar and parents. Using up all the frequent flyer miles faster than I can build them.


October 1998 Luzimar and I spent 10 days in Bogota Columbia. It was much harder getting out of Columbia than getting in.



Spring/Summer/Fall/Winter 1997

Spent Christmas 1997 in California. Luzimar, Kurt, and Eber really liked California. Eber snowboarded for the first time.


September 1997, Luzimar and I spent 20 + days in Sao Paulo and Vitoria Brazil.


February 1997 married civily here in USA.


January 1997, Luzimar and I married in Brazil. My parents went. We met them in Brazil. I sent Eber ahead (in December), and he returned with my parents! They spent a day in Rio on the way back!


Family Photos
We have tons of photos and 8mm film of the family, but I am really lazy transferring them to the computer. Eber purchased a nice digital camera that should make it easier, but........Anyway, here are a couple of photos I scanned.
A day in Macomb Visiting the Boys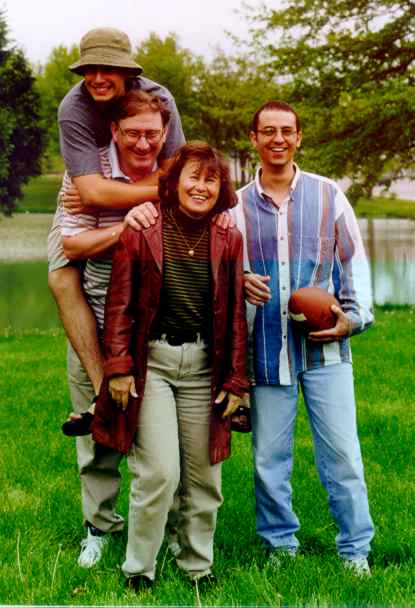 Luzimar and Jack at Church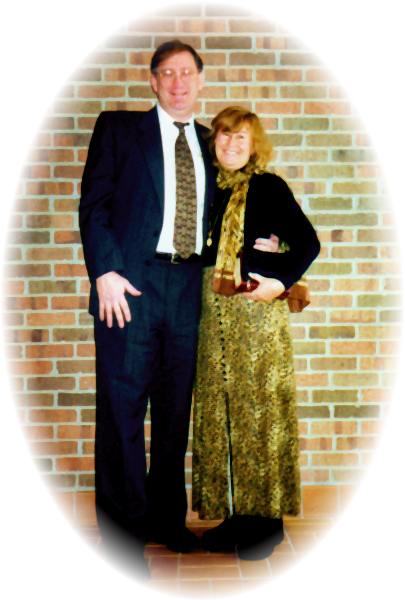 Luzimar and Jack at Home During a Church Get Together
Eber, Olesea, Kurt, and Luzimar
Thais - Kurt's New Wife - Our Latest Daughter - in - Law
More Family Photos
Click on the thumbnails to see the full sized image!