Jewelry Box for Luzimar's Mother
This is a simple jewelry box I made for Luzimar's mother. It follows my typical pattern of box making, box joints, mitered feet, frame and panel lid, and so forth. I actually had made another but ruined it on the Saturday afternoon before my early Thursday morning departure for Brazil. Thus, I quickly made this box Saturday evening and applied the finish Monday through Wednesday.
The box is made of red oak and measures 9" x 12" x 4-1/2" deep. I finished it with three coats of varnish and rubbed it out with paste wax. The interior is divided into six partitions with a sliding box that provides a couple of partitions. The interior bottom is finished with spray-on suede-tex.


Picture 1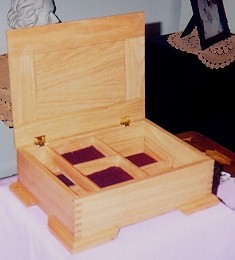 Picture 2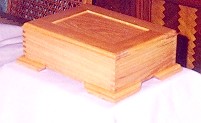 Picture 3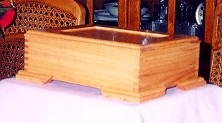 Picture 4