Woodworking in Brazil
While visiting our family in Brazil, we took the opportunity to tour three woodworking shops. Shops in Brazil, like here, range from small one man operations to large 20+ man operations. The three shops we visited are local shops, located in the middle of neighborhoods. Larger shops can be found in the larger industrial centers.
I found the following very interesting:
All three shops had a long bed stroke sander that appeared to be the "center" of the shop.
Dirt floors. Two of the three shops had dirt floors. One floor was remarkable for its large valleys and hills. I have no idea how the owner could assemble cabinets and such on the terribly uneven floors. He actually had a large cabinet in process. Basically, it spanned several of the valleys! Of course, he also had a dozen or so chickens/chicks under foot as well.
The wood carvers are amazing. Using shop-made knives (chisels), made from mild steel blanks and sharpened with what appears to be a rock, they produce remarkable carvings. No tool steel, no high-speed steel, no Tormek grinders....simple tools and great results.
All three shops used mortise and tenons joinery for virtually all joints. All three shops had a horizontal boring machine to make the mortise. One shop had a tennoning machine. One shop cut the tenons using a 10" cir saw blade mounted horizontally in a shaper. Evidently, OSHA has not arrived in Brazil. No sight of the bench-top mortise machines gaining popularity here. The horizontal boring machine demoed for us works faster and easier from my point of view. The workpiece is clamped on the sliding table,the head with a drill/end mill is pushed into the work to the desired depth, and then the workpiece is moved to the desired width.






The workers (carvers, finishers, general cabinetry) earn about US$80.00 per month.
All shops do a lot of work by hand. I did not see a single router, electric sander, or pnuematic device. Not one!
Two shops had wooden table saws and band saws. Look like the Gilliom kits you can buy here. One wooden band saw we saw must have had a 25" throat and 12" depth.
No dust collection! Though, many workers wore dust masks.
Virtually all workers wore sandals.
The cabinet shops use plywood and MDF with veneers they apply with contact cement. Shop 2 described below had the largest clamping presses I have ever seen! They were large enough to clamp an entire cabinet.
All shops use various forms of Brazilian hardwoods I had never seen. All shops mentioned that at least for them, Mahogany and Rosewood are extinct. I asked several about the trees being destroyed in the North by the slash and burn tactics, and no one seemed to know what I was talking about. However, another Brazilian mentioned that one of the European companies participating in the slash and burn has been charged with trying to hide (in the rivers) and illegally export some of the fine Brazilian hardwoods. Hmmm.
The cabinet shops use pine and composites for drawer sides.
Shop 1
The first shop we visited was a one man shop located right around the corner from my Mother-In-Law's house. The shop had a variety of power tools including a "shop-made" table saw, band saw, and stroke sander. He also had a shaper, not too different from what we use in the states. He had mounted a 10" circular saw blade in the shaper which looked incredibly dangerous. No guards, no protection, yikes!
His bandsaw, at least 90% made of wood, was huge. Like most of his tools, it did not sit flat on the floor and did not appear to be setup square. That said, it appears to cut well and square, meaning the owness for quality cuts is on the operator not the saw.
His table saw had a wooden table and fence. The fence clamped to the table with two bolts, much like a shaper fence or some router fences. No measuring tapes, etc. Huge motor, looked like it could produce 20 HP!
His primary product is raised panel entry doors. They were absolutely beautiful, consisting of 20+ small raised panels, mortise and tenon frames, mitered moldings, etc. He produces 2 doors a day. The shop had dirt floors, chickens under foot, and was open on several sides. Consequently, he contracts out for most of his finishing.
Shop-Made Stroke Sander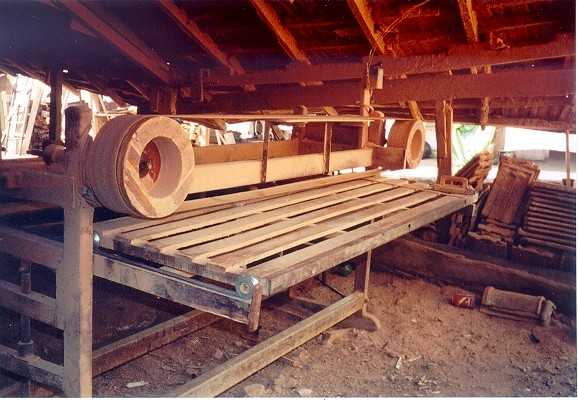 Shop 2
The second shop we visited was large and again close to home base. It consisted of three separate buildings. The larger building is used for all of the milling and assembly operations for their casework. The second building is used to assemble and upholster sofas and chairs. The third building is used for finishing.
This shop has remarkably modern and high-cost machinery. Most of the machinery is industrial. The jointers, planer, table saws, stroke sander, and shapers were much larger and powerful than what we would buy for a small shop or home shop. The jointers were huge. The planer/thicknesser was Delta's largest. The Rockwell table saw had a cast iron sliding table with rails at least 20' long. They had three lathes. One was a high-tech copy lathe. Another looked alot like a high-end General lathe.
The shop does not use pnuematic tools, electric sanders, nailers, etc. All hand work was done, by hand.
We spent most of our time in the finishing shop. The finishing area was a large room approximately 15' x 15'. It had a single exhaust fan. It had a large finishing table with a shop-made carousel, kinda like a lazy suzan on steroids. They use a two part sanding sealer and varnish. If stain is desired, it is mixed with the clearcoat. A separate adjoining room is used for drying. Wooden drying racks are mounted to the walls.
Their finishing process is as follows:
Sand to approximately 180 grit and clean surfaces.
Mix and apply the two-part sanding sealer to top / primary surfaces using a sprayer.
Dry in the drying room.
Apply the two-part sanding sealer to bottom and secondary surfaces using a brush. This eliminates the overspray problem some of us have experienced.
Dry in the drying room.
Sand to approximately 180-220 grit and clean surfaces.
Mix and apply the two-part varnish to top / primary surfaces using a sprayer. If a stain is desired, it is mixed into the varnish.
Dry in the drying room.
Apply the two-part varnish to bottom and secondary surfaces using a brush.
Dry in the drying room
Shop 3
The third shop (a small company named MACAM), primarily makes carved headboards, picture frames, and mirror frames. Carving is the company's primary calling card. They also do some contracted carving. The shop is basically a three walled enclosure with a corrugated steel roof and dirt floor. They had a small band saw, stroke sander, planer, jointer, table saw, shaper, horizontal bore, etc. Their equipment was professional, but not necessarily "industrial".
Their two carvers use mild stool cutting tools. They looked like file blanks sharpened and shaped for carving. They don't use grinders, Tormeks, or other hi-tech sharpening devices to sharpen their tools. Rather, one of the carvers showed me what appeared to be a rough rock. It was not a flat sharpening stone like we are used to. I was amazed! Most of the chisels had wooden handles. Both carvers we watched hammered way with wooden mallets, each cut chipping away relatively large amounts of material with each blow. Patterns are stored in a cardboard box and are traced onto the wooden blanks using carbon paper. The relief is left to the carver's talent.
Other workers manufacture the remaining components. They were busy cutting mortises, trimming tenons, sanding the carvings, and so forth. This shop had 8 to 10 employees.
MACAM sells complete beds with their elegantly carved headboards for approximately $30 in lots of 10, $60 for one! Marcelo is now in the U.S., building incredible pieces of furniture (1800's period furniture). Contact Marcelo Fonseca
One of the Carvers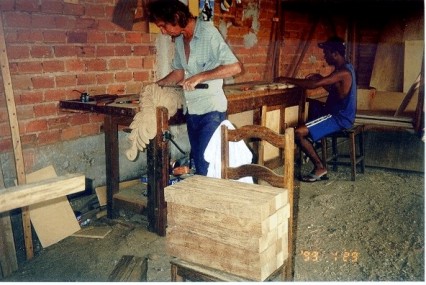 Marcelo Fonseca and another Carver (and part of my stomach-far left)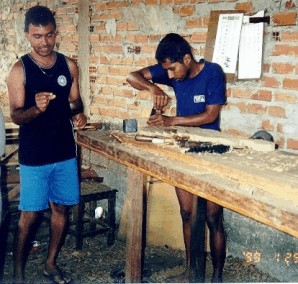 One of Several Headboard Styles (Took this picture in the Shop)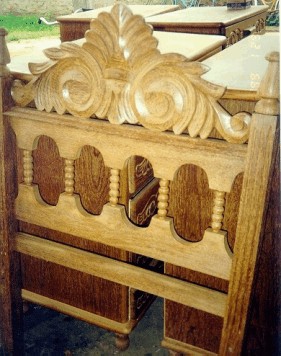 A Mirror/Picture Frame (Took this picture in Marcelo's Office)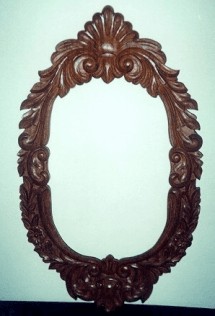 Another Mirror/Picture Frame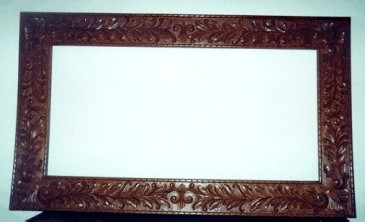 Another Mirror/Picture Frame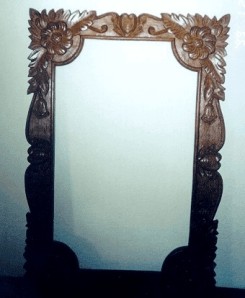 Questions
If you have any questions, E-Mail Me!